Yoga with Dr. Krista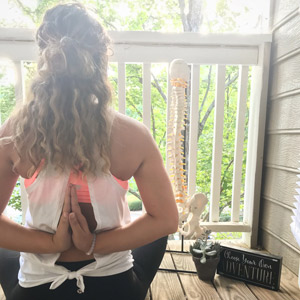 Wave of Life Chiropractic is delighted to offer yoga to not only patients, but also the community. Instructor Dr. Krista possesses a 200-hour yoga teacher training certification. "The connection between what yoga and chiropractic have to offer is what really got me interested in pursuing my certification," she said.
Vinyasa, also called flow, is one of the main approaches she teaches. This is more of a movement style intended to be energizing. "If participants express they are feeling tight and need to stretch or feel bogged down, then we focus more on the yin style and into the restorative state," said Dr. Krista.
Individualized Classes Open to All
Because Dr. Krista's class sizes are small, they are more individualized. She can tailor each class based on who is in the class that day or what the class is feeling. In addition to being customized, our classes are also welcoming. "It's definitely a no-judgment zone. We have our regulars, and they're welcoming to everybody that comes in, including first-timers," said Dr. Krista.
Class participants feel a strong sense of community, as they often enjoy connecting before classes even start.
Patients
$13 for single drop in
$55 for 5 classes
$100 for 10 classes card
Non-patients
$15 for single drop in
$65 for 5 classes
$120 for 10 classes card
Tuesdays @ 9AM, Thursdays @ 7PM, and Fridays @ 10AM
at Wave of Life Chiropractic 4640 Shore Dr., Suite 108 Virginia Beach, VA 23455
Each class is an hour in length. Please note that if a class is canceled, Dr. Krista will provide notification on our website.
Please bring your own mat and props, such as a yoga block.
A Complement to Chiropractic
"Sometimes patients will bring friends to the classes, which helps them connect to not only what we're doing here by aligning spines through chiropractic, but also strengthening things appropriately," said Dr. Krista. She also equips class participants with positive lifestyle habits that they can do outside the office to support what they're doing through their chiropractic care.
---
Yoga Virginia Beach, Chic's Beach VA | (757) 321-7776