Chiropractic Care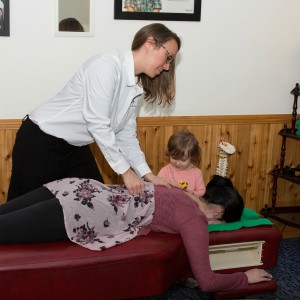 At Wave of Life Chiropractic, we provide safe, natural and effective chiropractic care for patients of all ages. Through our gentle care, we can remove interference in the nervous system, which allows the body to function optimally.
Our Mission
To help people and be open-hearted with acceptance and gratitude for everybody–and have a healing environment with respect and personal connection.
Benefits of Chiropractic Care
You may experience the following and more while under our natural care:
Improved range of motion & function
Pain relief
Reduced inflammation
Enhanced sleep
Boosted immune system
Reduced reliance on painkillers
Improved athletic performance
Frequently Asked Questions
Will I get cracked during my adjustment?
No, rest assured we do a gentle and low-force manual adjustment. Sometimes you may hear a sound, but that's simply air being released from the joint.
Do I have to be put on an extended care contract?
No. We do have care plans with the recommended frequency of care, but you can cancel for any reason, provided you give us a 30-day notice. You will never pay for what you don't use.
Why do kids need to get adjusted?
Little ones triple their size in the first year and get thousands of impacts to their spine within the first couple years. Chiropractic care can help a child develop properly and boost their immune system.
It depends on the level of care you require and what your exam shows.
Will I get adjusted on the first visit?
We generally don't adjust on the first visit. If you're looking for a quick fix, we're not the office for that. We're seeking to find the solution to the root of each patient's problem.
Some Patient Success Stories
Here are some of the many success stories we've been privileged to be part of at Wave of Life Chiropractic:
Every staff member I have met with is helpful, friendly and always smiling.

Super friendly, listen to your issues and came up with a plan to help solve my pain issues. Highly recommend this practice.

I love that everything is discussed with us with no hidden agenda. We're very excited to begin our chiropractic journey with Wave of Life!
Book an Appointment
Contact us today to schedule an appointment!

Chiropractic Care Virginia Beach, Chic's Beach VA | (757) 321-7776