Pregnancy Care at Wave of Life Chiropractic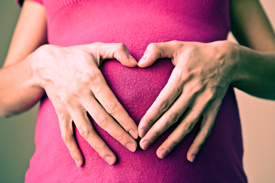 We know that pregnancy can be one of the most joyful stages of a woman's life! In just nine months two cells miraculously develop into a perfect human being. It is the most brilliant task our bodies are made to perform.
Chiropractic care before and during pregnancy can help create optimal pelvic alignment to create the most efficient environment for your baby to develop.
Dr. Carly and Dr. Krista have a passion for helping moms be empowered for birth and have relief while growing baby. They focus on your specific needs and history to determine the best care plan for your individual health and pregnancy. It is their primary focus to help moms be prepared not only physically but also mentally for delivery which is why they recommend a variety of resources and classes at the office.
A Better Balance for Mom and Baby
Chiropractic care during pregnancy has been shown to help reduce labor time, reduce the need for interventions (such as epidural, induction and cesareans), and ease labor.
Overall, you can experience a more comfortable pregnancy, labor and delivery with routine chiropractic care.
Our doctors can help keep your body in proper alignment so that your nervous system can communicate to your uterus and more effectively aid with the growth and development of your baby.
"My mission is to help women have an empowering birth experience. Your body is built to give birth!"
Safe and Effective
There have been no documented risks associated with chiropractic care during pregnancy. We use the Webster Technique to help obtain pelvic symmetry. A properly aligned pelvis will help reduce tension in pelvic ligaments that are connected to the uterus.
This will allow proper symmetry of the uterus as well as, providing the baby an optimal environment for growth, development and positioning. A properly aligned pelvis can help labor go as smoothly as possible on the big day!
Gentle Care
We use the a gentle chiropractic technique that allows us to provide gentle adjustments using less force for your body. The frequency of your visits is dependent on your individual needs. Pregnancy can cause changes in the spine and pelvis and our doctors can help guide your body back to proper alignment.
Contact us today and see how pregnancy chiropractic care can allow your baby to have a smooth transition from womb to world.
Dr. Carly's resources for new mommas
– Homebirth: https://www.sevencitiesmidwifery.com/
– Watch youtube videos on breastfeeding positions before delivery
– Join Sweet Drop Cafe Facebook Group
– Join Wave of Life Mommas FB Group
– Cloth Diapers are EASY! Check out this video & ask Dr. Carly about her routine at you next appointment
– Try Elimination Communication for early potty training & ask Dr. Carly how it worked for Jasper
– Circumcision
www.intactamerica.org
– Whole Brain Child by Daniel Siegel & Tina Payne Bryson
– Good Moms Have Scary Thoughts by Karen Kleiman & Molly McIntyre
– Birthing During Covid from Evidence Based Birth (EBB)
– EBB resources for parents
– RIE Parenting Intro Video

Pregnancy Chiropractor Virginia Beach, Chic's Beach VA | (757) 321-7776