Pediatric Chiropractic at Wave of Life Chiropractic
Nerve interference can strike at any age. Children's spines experience over 4,000 disruptive impacts before they're four years old. After a fall, children may bounce back to their happy selves—but that doesn't mean their spines have recovered.
Over time, "little" trips, tumbles, and injuries add up. A misaligned spine reduces communication between the brain and the body, limiting the body's functioning.
At Wave of Life Chiropractic, we offer chiropractic care for babies and kids to keep them developing at their best. Our gentle adjustments help correct the structure of the spine and bring the nervous system into balance. Responding quickly to misalignments before they set in and become chronic prevents simple bumps and falls from developing into bigger issues later in life.
Safe and Gentle Care for Kids
Pediatric care brings kids' spines into alignment and restores their nervous systems to maximum health, improving the health of the whole body.
Kids' adjustments are safe and extra gentle, as we use the same amount of pressure you would use to test the ripeness of a tomato. Our team of chiropractors knows the Bio-Geometric Integration (BGI) technique, which requires less force while producing effective results.
To minimize feelings of nervousness, we often adjust a stuffed animal first to help children understand
chiropractic techniques
. We may have your child lay on top of you while we perform adjustments, or have kids watch as we adjust a parent first.
Conditions We See
We recommend chiropractic care whenever your child experiences an injury or accident, as well as regular checkups to keep an eye on your child's alignment. We also respond to specific pediatric conditions, including:
Acid reflux
Allergies
Asthma
Colic
Constipation
Ear infections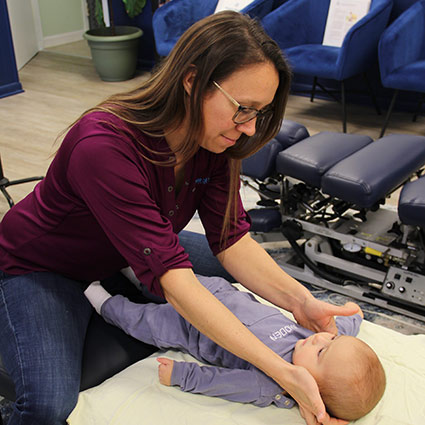 Maximizing Development with Infant Care
Birth is always stressful, even when it's a natural delivery. The strain of labor isn't only hard on the mom; it can also cause physical trauma to the baby, whether labor was fast or slow. Doctors and midwives may facilitate delivery by putting pressure on the baby's neck, causing subluxations.
Our doctors can perform your baby's first gentle adjustment right after delivery. Dr. Carly, Dr. Krista, and Dr. Christina have had moms come straight from the hospital or clinic for their post-delivery adjustment. They see chiropractic care as a vital first health check in ensuring their babies' complete wellness.
Infant care helps babies recover from birth and sets them up to develop well. The spine triples in size over the first year. As your baby undergoes rapid changes, it's important to monitor growth and remove any obstacles for healthy development.
Finding an Answer for Colic
One exhausted mom came in with an inconsolable baby who couldn't handle the car seat. The mom struggled to sleep, as her baby frequently wailed through the night.
After adjustments, the baby began sleeping through the night and rode in the car seat with no problem. Colic had simply been a cry for help, and we were honored that the mom let us respond with an answer for her baby's pain.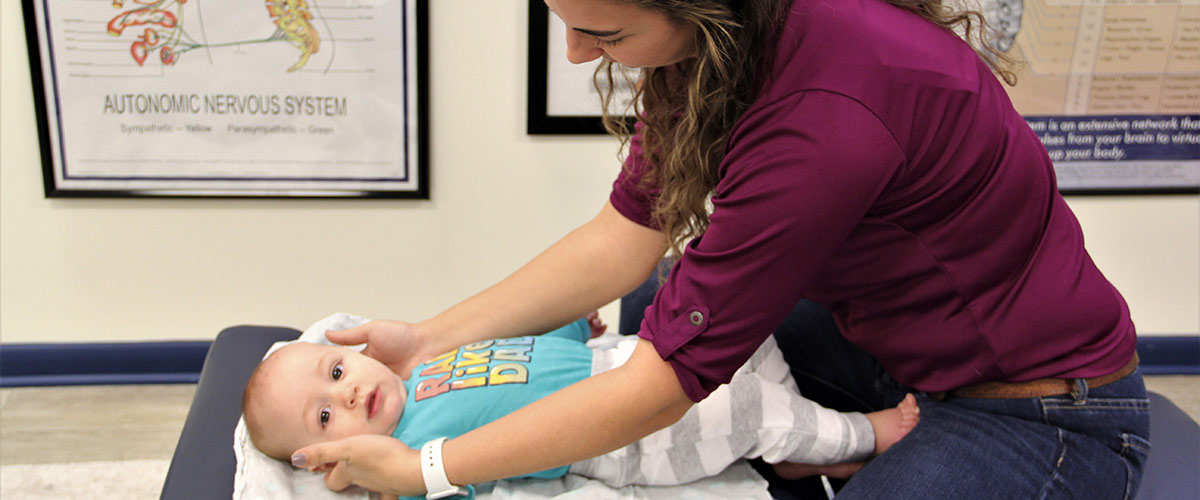 Starting Life With a Strong Foundation
The foundation of health we set for kids now will impact every day of their lives. Regular chiropractic care reduces interference with the nervous system so their bodies are functioning at full strength throughout every season of childhood. As a result, kids under care have a stronger immune system, less back and neck pain, and fewer chronic health problems. They aren't as dependent on medication and grow up understanding that there are natural options to respond to the root cause of pain.
Our vision is to start as many kids as possible with drug-free health care and balanced nervous systems. One child at a time, we're changing the way an entire generation approaches wellness.
Frequency of Visits
The frequency of visits depends on the child's age and how long he or she has had subluxations. Young athletes and children with specific conditions like ear infections, colic, or reflux benefit from coming in multiple times a week.
Once kids have established a foundation of regular care, most children under eight need follow-up visits about once a week.
Book Your Visit Now
At Wave of Life Chiropractic, your child's health is our passion. Schedule an appointment today to help your kids develop at their best.
CONTACT US »

Pediatric Chiropractic Virginia Beach, Chic's Beach VA | (757) 321-7776