Pediatric Chiropractic at Wave of Life Chiropractic
Care from the Beginning
The birth process is a natural, yet stressful, event that can cause the nervous system to be overstressed.
The doctor often puts strain on the newborn's neck to help facilitate the birthing process. As a result, 95% of babies are born with spinal subluxations.
Depending on the hospital's guidelines, our doctors may be able to perform your baby's first gentle adjustment right after delivery. Dr. Carly and Dr. Krista have also had moms come straight from the hospital for their post-delivery adjustment and it does wonders for recovery and bouncing back to help care for baby.
Why so Young?
Did you know children have over 4000 impacts to their spine before they are 4 years old? Have you seen your little one tumble of the curb or dining room chair? They probably cried and then bounced back to their happy selves but that impact is last on the developing spine. Over time those "little" trips, tumbles, and falls add up and then you have a teenager with chronic headaches or complaining of back pain. A misaligned spine reduces the communication between the brain and the body and does not allow your child to function optimally. The gentle adjustments will help correct the structure of the spine and create a balance in the nervous system. This will allow your baby to develop as efficiently as possible and prevent these tumbles from turning into a big issue in the future.
Health and Wellness
Chiropractic care has many benefits to help your child stay as healthy as possible. As your baby gets older, we can provide chiropractic care that can help with:
Acid reflux
Allergies
Asthma
Colic
Torticollis
Constipation
Ear infections
Knock knees
Acid reflux
Overall health and wellness
Lilah has had two adjustments and two poops! I can't ask for better than that!

What a friendly office! Everyone is so passionate and kind! I'm happy to have here y'all!

It is such a friendly place with a dynamic program for all ages. When I see babies and young children being treated they are as happy as they can be!

The chiropractors are great! My twins were less fussy and more comfortable after their first adjustment! I have been to two different chiropractors before this one and they are the only ones that have helped my situation. So thankful for you guys!

Dr Carly is so gentle with babies!
Should We Take Our Baby To A Chiropractor
Chiropractic Care Can Help Nocturnal Enuresis
Average Of
24 Hours Less
Daily Crying
Safe and Gentle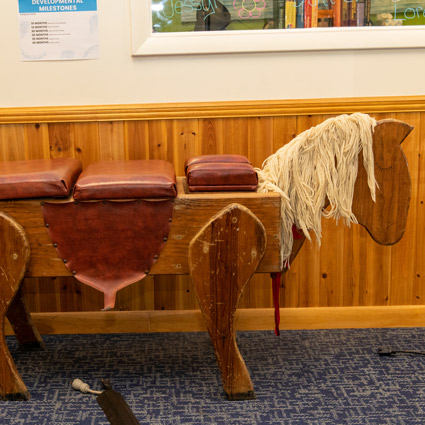 We utilize an approach that provides gentle adjustments to release tension. Very little force is used on children in general, but the Bio-Geometric Integration (BGI) technique requires even less force. Frequency of visits depends on age. Dr. Carly and Dr. Krista have seen benefits of multiple times a week when caring for children who have specific aliments such as ear infections, colic, or reflux. Healing takes time, frequency, and dedication to see results.
Once the foundation of regular care has been established then once a week is usually what most children under the age of eight need. Once they begin sports, adjustments may need to be more frequent depending on the individual needs of your child.
Are you ready to help your child obtain optimal wellness? Contact us today and schedule your visit with our doctors, the best pediatric chiropractors in Bayside, VA.

Pediatric Chiropractic Virginia Beach, Chic's Beach VA | (757) 321-7776