Meet Dr. Carly Swift
Discovering Chiropractic Care Means "Health From Within"
I am now a Virginia Beach Chiropractor and a long time ago the idea of healing being a natural process made sense to me, but I didn't know where to find support in this process. When I discovered chiropractic's foundation was that healing comes from within, I knew this was my calling.
I went to a chiropractor when I was 17 years old and the idea of helping people without blood or drugs intrigued me. I then set out to make this dream a reality. I worked steadily at Life University molding my lifestyle into one of vitality and health. The more I began to learn about our healing process and the way our bodies are built the more I understood how little we need outside ourselves to heal. When I learned that chiropractic's foundational principle was releasing the doctor within and allowing the body to heal from the inside out as it's built to do, I knew I had found the profession I had always dreamed of.
My Education
I completed a bachelor's degree at James Madison University in Health Sciences and quickly began my journey at Life University where I completed my Doctorate in Chiropractic. I was excited to learn in depth the intricate processes of the body, particularly the way the nervous system controls every detail from the way our fingers move to the miraculous accomplishment of developing a human being from two cells in only 9 months.
I have a certification in pediatric and prenatal chiropractic through the International Chiropractic Pediatric Association. This dives into the unique needs of children's development and childhood neurosensory disorders. My pediatric certification helps me understand difficult cases such as ADHD, sensory procession disorders. I continue my education every year to better serve our community by attending conferences multiple times a year.
In addition I am affiliated with the Unified Virginia Chiropractic Association, International Pediatric Association, American Pediatric Association, and Holistic Pediatric Association
My Vision
I see a great world of health if we all begin our life fully connected to our body without nerve interference from the day we are born or even earlier, while in the womb. I see this eliminating so many unnecessary health costs and ailments that we now consider normal. It is my responsibility to provide a resource for people seeking a new form of health care.
At Wave Of Life Chiropractic Center our mission is to transform Virginia Beach into a community of health and vitality and be a model for the country. I look at every patient having unique individual experiences and approach all care through this consideration, no one person is the same. Infants, pregnant women, children of all ages respond greatly with the gentle chiropractic care I provide. Holding a day old baby and providing an adjustment that allows their development to continue unhindered is the most amazing and humbling experience I have ever had the privilege of experiencing.
Life Outside of Wave of Life Chiropractic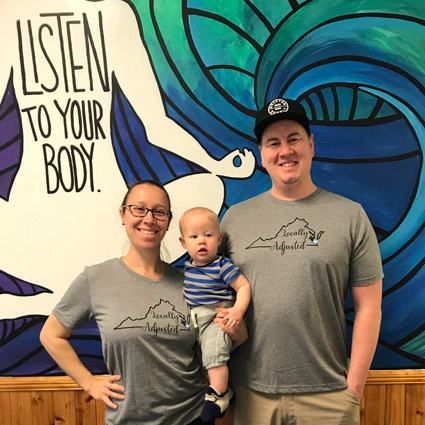 I spend most of my free time with my husband Roy and our son Jasper either on the beach or riding bikes along the oceanfront.
A particularly inspirational experience during school was traveling to El Salvador to give and serve the small farm towns of that country. The citizens of these towns were over joyed and expressed such gratitude for the service of chiropractic care we brought them. I look forward to continually making these trips to under-served areas of the world.
As a Chiropractor in Virginia Beach, I get adjusted at least once or twice a week to stay properly aligned and make sure my nervous system is in the best shape to serve the families at Wave of Life. I enjoy hiking, kickboxing, and yoga to stay in shape and I cook whole-food meals with lots of color! I also find it essential to have a clear mind and spirit so I can be fully expressed and I maintain my standard of healing from within.
If I begin to feel less than optimal, I simply increase my adjustments as needed, stay hydrated, and get sleep.
Contact Wave of Life Chiropractic now to let one of the Chiropractors in Virginia Beach get you on the right path.

Dr. Carly Swift | (757) 321-7776