New Patients at Wave of Life Chiropractic
We provide gentle, whole-body care that releases your full potential by combining state-of-the-art technologies with experience and passion for the health of your family.
We are honored and grateful for the opportunity to provide your family with chiropractic care and look forward to helping facilitate your growth and healing. We accept all major credit cards, CareCredit, and HSAs. Currently, we do not accept insurance, but we do offer family plans.
At
Wave of Life Chiropractic
we make the process simple, with no homework to get done before you come in. Just show up in something comfortable.
Your First Appointment
When you come in, LaTanya or Vanessa will greet you and have you fill out a brief application for care. Next, Tami will take you back for your health screening. Tami will also help our doctors through the exam process. She is skilled in the equipment and loves helping educate people on how to live a healthier lifestyle.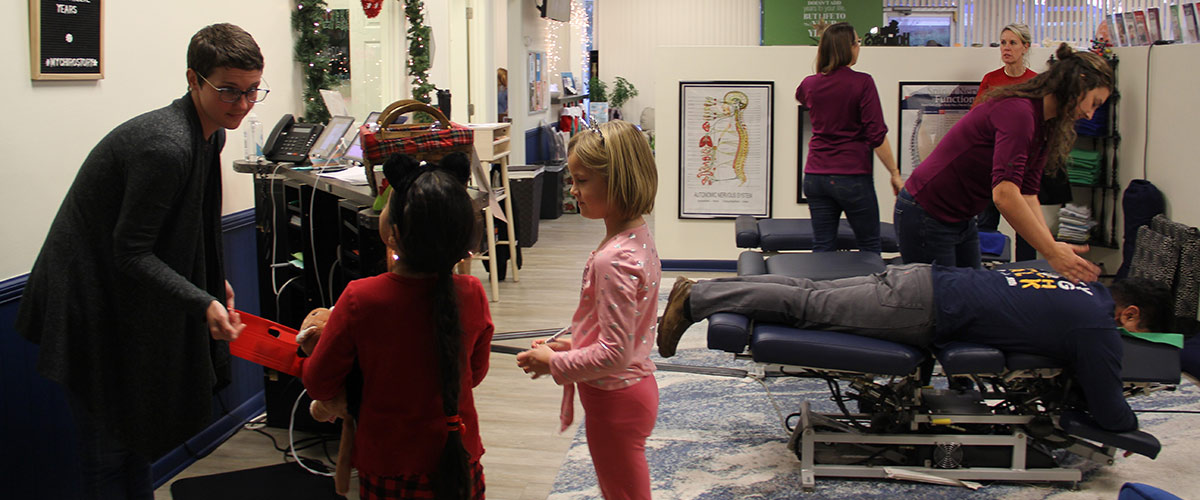 Thorough Testing for Exact Answers
One of our doctors will take you back for a consultation and an initial chiropractic spine evaluation to determine if this is the right place for you. If we think we can help, we'll then do a full examination to see exactly what's going on.
Along with a detailed history, we will run tests including thermography, muscle tension, EMG, heart rate variability, a stress test, and a posture assessment. We may also refer you out for X-rays if we see something that demands a closer look. We're thorough because we want to see what's happening from every angle so we know exactly where the problem is coming from and what areas of your body it's affecting. After that, we'll have you check out and schedule your next appointment. This first visit takes 45-60 minutes.
Your Second Appointment
We schedule second appointments at 10:00 am or 3:00 pm. On your second visit, you may be with a group of patients who are also just starting care. Our doctors will go over common information together and then break out individually to go over your results. The order of arrival will determine the order of receiving your results. We request you bring your spouse or a friend to this visit so they can understand what the problem is and how they can support you. Having a support system is essential in your healing process.
The second visit allows us to go over all testing results with you so you understand what we're seeing. We'll let you know if you need chiropractic care, lay out a recommended care plan based on the findings and your history, and discuss finances. Your care plan can range from 12-155 visits and take anywhere from 1-24 months.
If you decide to proceed with care, you'll receive your first adjustment at the end of this visit. You will then schedule your future adjustments with MaryAnn. Please bring your calendar so we can find the best time for your schedule. The second appointment typically takes 45 minutes.
Regular Visits
Regular adjustments take about 5-10 minutes. If you need to schedule or make any payments, please allow additional time. If possible, please handle the scheduling and finances at the beginning of the visit so you can relax and leave without having to disconnect from your adjustment process. When you are shown to a table, place your belongings in the basket provided and lie face down on the table. Otherwise, have a seat and wait for the next available table. Every 10-12 visits, we'll take an extra 15 minutes to reassess your progress, just to make sure we're seeing the results we expect.
Talk to Our Office Staff Today
At Wave of Life Chiropractic, we make professional chiropractic care simple and doable. Book your first appointment today.
CONTACT US

New Chiropractic Patients Virginia Beach VA | (757) 321-7776